Content
Content is the most crucial component of any Play application. Content can be divided into channels and on demand, which will be covered briefly below.
Channels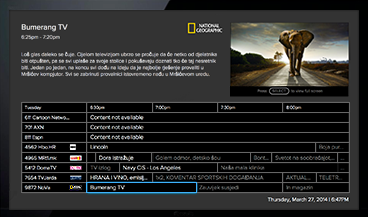 Channels are live video feeds that are encoded and delivered in the form of IP streams. Streaming format support for channels is device dependent. Users are required to define and configure channels with the IP stream together with its associated EPG data, logo and channel display name, which will be covered in the later sections.
High Level Specifications:
UDP/HTTP/RDP unicast or multicast
Support for XMLTV EPG data format or CSV file
Support for authenticated FTP and HTTP EPG data retrieval
Standard image formats supported include JPG and PNG (For Channel Logo)
On Demand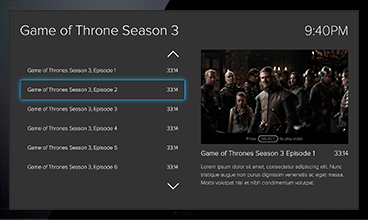 On demand content refers to content that resides in the Appspace Library or various external sources. Users are required to define and configure on demand folders containing on demand contents together with its associated folder icon and folder name.
High Level Specifications:
Support for videos, images and external content
Standard video formats supported include H.264, MPEG-4, WMV 3/ VC-1
Standard image formats supported include JPG and PNG (For Channel Logo)