Managing Channels
Introduction
Channels are specific broadcasts of live/streaming content that are sourced from content providers and can be organized and viewed by users within the Channels tab. The behaviour of the channels is similar to terrestrial television broadcasts, i.e. users are only able to view the content and not manipulate the playback in any way (such as pause, rewind, or fast-forward to skip the current content being streamed). This guide will elaborate on the steps to add, remove, and edit channels within the Play extension.
Creating New Channels
Step 2
The Channel Information page will appear and you will need to complete all of the fields listed. Click Save when finished.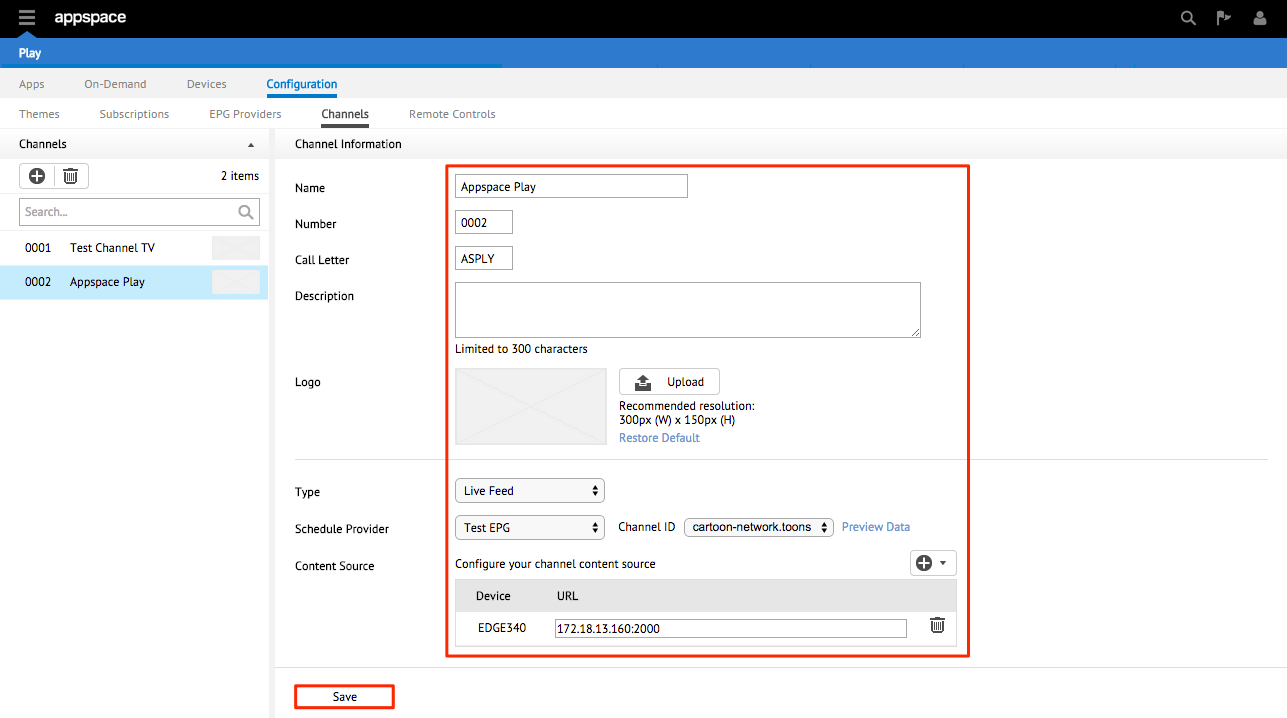 Note
Content source formats are limited to formats supported by the VLC player used/leveraged by the Edge 340 devices.
Display Name – logical name of the channel set by the user.
Channel No. – this is a required field and is user-customizable.
Channel Code – short name/abbreviation for the channel's display name (limited to 7 characters).
Description – brief description of the new channel.
Logo – this is an image file that will represent the channel icon.
Type – only Live Feed option is available in this version.
Schedule Provider – source of the EPG content configured in the Settings tab.
Channel ID – the unique ID for the EPG of the channel to be linked to the new channel.
Content Source – the actual source of content for the channel itself (live/streaming video).
Important
When selecting a content source, you must select EDGE340 as Appspace Play is only supported on Cisco Edge 340 devices.
Updating Channels
Deleting Existing Channels
Step 1
From the Configuration tab, select Channels. Select the name of the channel to be removed. Verify the details of the channel prior to removing it from the list and click on the trash bin button.