Widget: SIP Call Design and Components
Introduction
This article will guide you through the steps to add and configure a SIP Call Widget (along with all of its components) to create a fully functional SIP interface. A complete SIP application can be broken down into two main components:
SIP Call Widget- used to establish connection with the Cisco Unified Communication Manager (CUCM) server and to act as a video display for video conferencing.
Function Buttons – used for interactions between users and the SIP client for telephony functions (i.e. ending a call, muting the microphone) The following sections in this article will guide you through the creation and configuration of an application that will be comprised of both components described above to provide an interface for users to interact with.
The following is an example overview of those components that make up the SIP widget: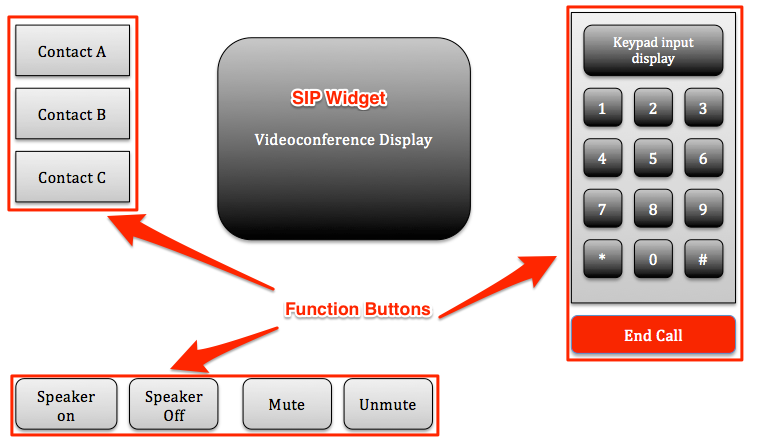 This article provides the instructions on how and configure the SIP Call widget.
Prerequisites
The following prerequisites must be met/followed in order for all elements of the SIP widget to function properly:
Appspace server version 5.1.x
Cisco Unified Communication Manager (CUCM) credentials
All image files to be used for the operational interface

Images for each numeric keypad number (0 to 9)
Images for keypad symbols (* and #)
Images for functional buttons (mute/unmute, speaker on/off, end call)
Adding and Configuring a SIP Call Widget
This section goes through the steps to configure the SIP call widget. It should be noted that the SIP call widget itself will act/perform as a video zone whenever a video conference has been detected to be available on the receiving end.
Creating a Numeric Keypad and Display
The numeric keypad is used in the event DTMF (dual-tone multi-frequency) signalling or IVR (interactive voice response) input is necessary. Each number or symbol on the keypad is essentially an image that will be mapped to the SIP widget's built-in actions that will execute a number of possible functions within the widget.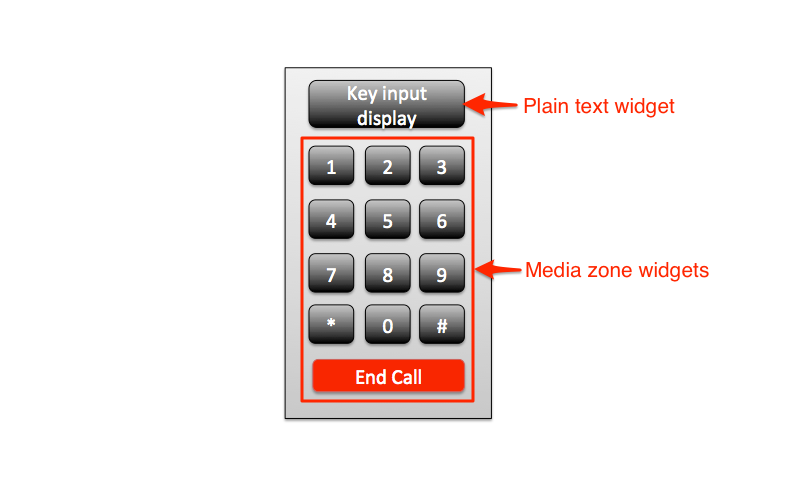 In the above example, the numeric display will be a plain text widget while all keypad buttons will be media zones. Using media zones for keypad buttons will give users the creative flexibility in designing a keypad that can be customized to match their own application theme.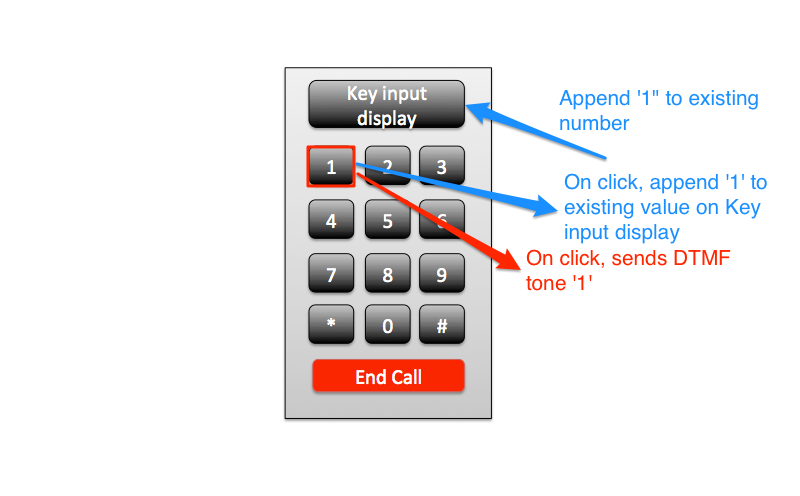 Each individual keypad button may have a number of actions associated to it. In the above example, there are two actions per keypad button. The first action sends the DTMF tone for IVF usage, while the second action appends the clicked number to the numeric display – thus granting the user a display of clicked numbers.