The Appspace App release notes provide information on the new features, newly supported devices, enhancements, resolved escalations, and bug fixes completed in each release for Appspace Cloud.
App 2.4
Release Date: 6 Dec 2019

BrightSign Devices
Support for video playback and animations in the Weather Card, on BrightSign devices.
Content Playback Improvements
Content transitions are automatically disabled on a playlist channel with videos and cards containing video or audio,  on BrightSign, LG, and Samsung Tizen devices, to enable seamless video playback.
The next content in a playlist channel is loaded first and displayed, before removing the current content that is displayed, to ensure smooth content playback.
Resolved Bugs
APC-5230 – There is a 20-second video freeze if the first video has a custom duration set while subsequent videos have default duration, in a playlist channel.
APC-5233 – Invoking the on-screen keyboard on Samsung SSP6 Tizen devices reloads the Room Schedule and Schedule Board cards.
Resolved Escalations
AE-5709 – Connection leaks on Chromium 78.x devices cause device reboots.
App 2.3
Release Date: 15 Nov 2019

Resolved Escalations
AE-5570 – Google Slides card stagnates when playing the last slide if the slides duration does not match card duration.
App 2.2
Release Date: 8 Nov 2019

Updated Registration Screen UI
A minor UI update on the registration screen, displaying registration information allowing the user to select the best method to register the device.
Resolved Escalations
AE-5608 – Channel thumbnails in channel browsing are no longer transparent.
AE-5631 – Media index position is displayed as undefined in a scheduled playlist in Advanced Channel.
AE-5632 – Unable to load media using an offset action in a scheduled playlist in Advanced Channel.
App 2.1
Release Date: 18 Oct 2019

Universal Windows Platform (UWP)
Support for synchronized multimedia playback across multiple screens on UWP devices.
App 2.0
Release Date: 10 Aug 2019

New Channel Browsing User Interface and Functionality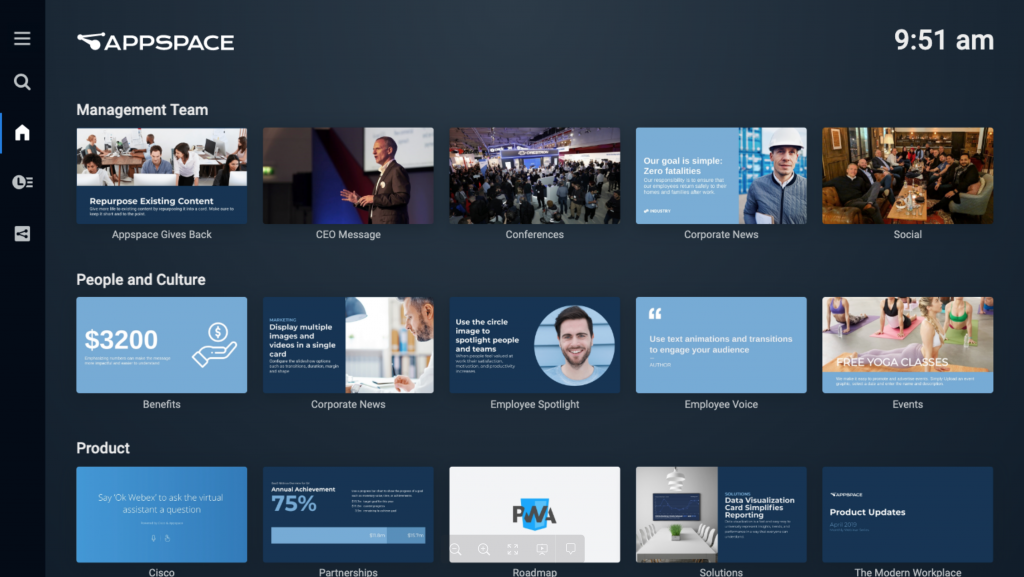 The Appspace App 2.0 channel browsing mode has been redesigned for better user experience, as it comes with a new user interface and the following added functionalities:
Clock Display
A customizable clock is now displayed on the top right of the screen.
Side Menu
The side menu has been updated for persistent icons.
All Channels View
The "All channels" view displays a composite of channels that have been published to the device or user in alphabetical order.
One Channel Group View
If only a single channel group is published to the device or user, the displayed channel tiles cascade down the entire height of the screen, and is not restricted to a single row.
Recently Added View
The "Recently Added" view displays a combined list of all content added recently to published channels or channel groups, in chronological order.
Background Channel View
An interactive background may be used, by naming a channel "interactive-theme-background" (playlist only) and publishing it to the device or user.
Playlist Content Playback
Interacting with the screen via touch or remote control, displays an overlay with the name and article (this is hidden if there is no article) of the current content, and displays the previous and next content thumbnails in the playlist. An additional scrub bar is displayed if video content is played.
Interactive Tagged Content
Content tagged with "Interactive" or "Productivity" allows interactive display, with a black (default theme) or white (light theme) bar at the bottom of the screen that also allows users to bring up the menu.
Channel Browsing Theme Customizations
Users can now customize the theme of their channel browsing screens, by adding in the following player properties to make the following changes:

Enable or disable the Search function.
Enable or disable the Sidebar menu.
Enable or disable the Cursor.
Enable or disable the Channel Group title.
Customize the Channel Group title color.
Customize the Channel color.
Customize the Background color.
Customize the Scroll behavior.
Customize the Sidebar text color.
Customize the Sidebar highlight color.
Customize the Sidebar background color.
Customize the Time display color.
Select the number of Channel rows.
Select the number of Channel columns.
To find out more, browse the Navigate Appspace App 2.0 or Customize Channel Browsing for Appspace App 2.0 articles.
New Registration Method via QR code
Support for device registrations by scanning a QR code displayed on the Appspace App 2.0 splash screens from a mobile device.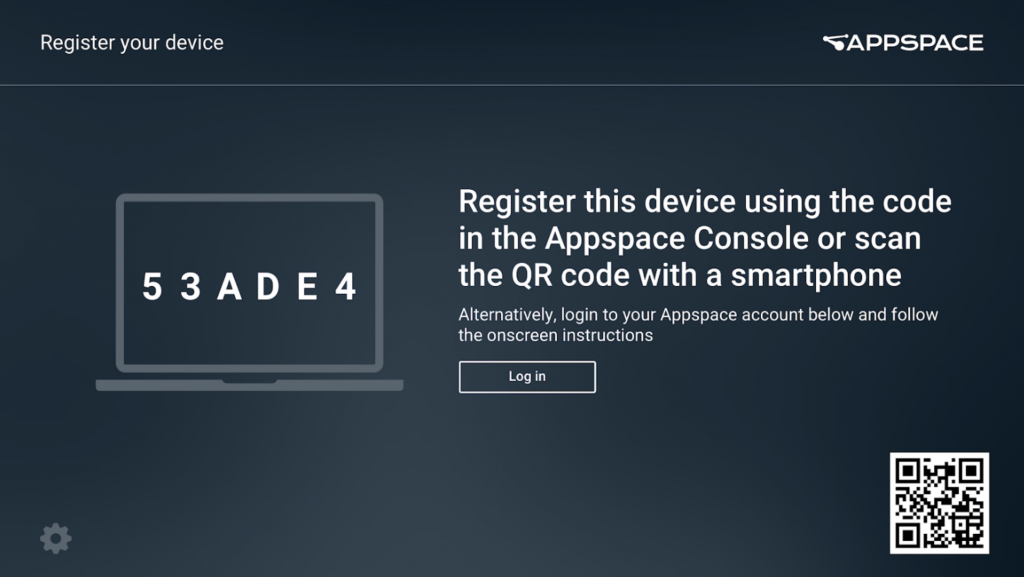 Find out how to register using this option.
Cisco Webex Board
Support for Cisco Webex Board Series devices, which are part of the Cisco Collaboration Endpoint devices. A new feature that allows the display of digital signage on connected Cisco video screens when they are not being used for screen-sharing, whiteboarding, or conferencing.
The following device has been tested and certified with Appspace App 2.0 in Signage Mode:
BrightSign
BrightSign XT1144 devices running firmware v7.1.65 have the following limitations:


Mouse cursor disappears when web content and cards are displayed in full screen.
Unable to play a WMV file without audio.
Unable to play multicast RTP streams.
Audio is lost when playing back to back audio content.


BrightSign devices running firmware v8.0.48:


When the aspect ratio of a playlist is set to Uniform Fill (default), video content is zoomed in and cropped, unlike the behavior in BrightSign firmware v7, where video content fills the screen while maintaining its aspect ratio.
Chrome OS
In line with our improvement efforts, we recommend pinning Appspace App to Chrome OS 74 for better stability, security, and performance.
LG webOS
The device may crash and reboot, after several playbacks of multiple cards in a channel playlist when in interactive mode.

Below is a list of LG webOS 4.0 issues that occur when Appspace App is in interactive mode:


A UI alignment issue when scrolling up or down; the channel group and channel name texts are not aligned at the bottom of the thumbnail image.

Flickering issues occur during the following instances:


When loading video after an image playback.
When channel playlist aspect ratio is set to Uniform.


Keyboard and mouse intermittently get disconnected or do not function when navigating channels.

Back button on the remote control does not function in the Device info page.
Mersive
Certain web content may not display correctly due to a CSS issue when displayed in full screen.
We recommend switching the display from "Full Screen" to "Footer Only" on the Solstice Dashboard.

Device Info on the Appspace App does not display the following information:


Device Firmware
CPU Usage
Memory Usage
Storage Usage


Mouse is unresponsive when connected to Solstice Gen 2i, when accessing the Device menu.
We recommend using a keyboard to access the Device menu.
Universal Windows Platform (UWP)
Devices updated to Windows 10 version 1803 (OS build 17134.48) are unable to register Appspace App.
We recommend updating to the latest Windows 10 version 1803 (OS build 17134.122) or higher, to ensure UWP devices work seamlessly with Appspace App.

A cursor is displayed and does not disappear when a mouse is connected to the device, even when not in use. This is an OS limitation, where the UWP releases the cursor control back to the operation system, instead of the App, when there is switching between channel content, or web views.
We recommend disconnecting the mouse when not in use, until this is resolved.

Device screen resolution display is not being reported correctly in Kiosk mode. This is due to a default scaling option in the OS that is meant for displaying text and apps bigger on high resolution but physically smaller screens.
We recommend changing the scaling option to 100%.
For more information, click the Windows Support help link: https://support.microsoft.com/en-my/help/3025083/windows-scaling-issues-for-high-dpi-devices