These release notes provide information on the new features, enhancements, resolved escalations, and bug fixes completed in each release for the Webex Recordings Card, which is also an Appspace supported card.
v 1.1
Release Date: 20 Nov 2020

UI Improvements
When selecting which Webex Meeting recording to use, users can now browse and search for recordings listed in a list or grid view.
Webex Meeting Recordings
Organizations can now play a snippet of a Webex Meeting recording, instead of the entire recording, or having to externally edit the recording prior to adding it to the playlist. Users will only be required to select the start and end time of the desired recording, trimming the entire recording to just play a snippet of the recording.
However, the trimming function is only available once the Webex Recording card has been saved. For instructions on how to do this, please refer to the Trim Webex Meeting recording article.
v 1.0
Release Date: 7 Aug 2020

Introducing the Webex Recordings card, which allows organizations or users with Cisco Webex accounts to stream their Webex Meetings recordings, such as conference calls or town hall meetings in a quick, efficient, and simple way by leveraging Appspace 8's integration offering.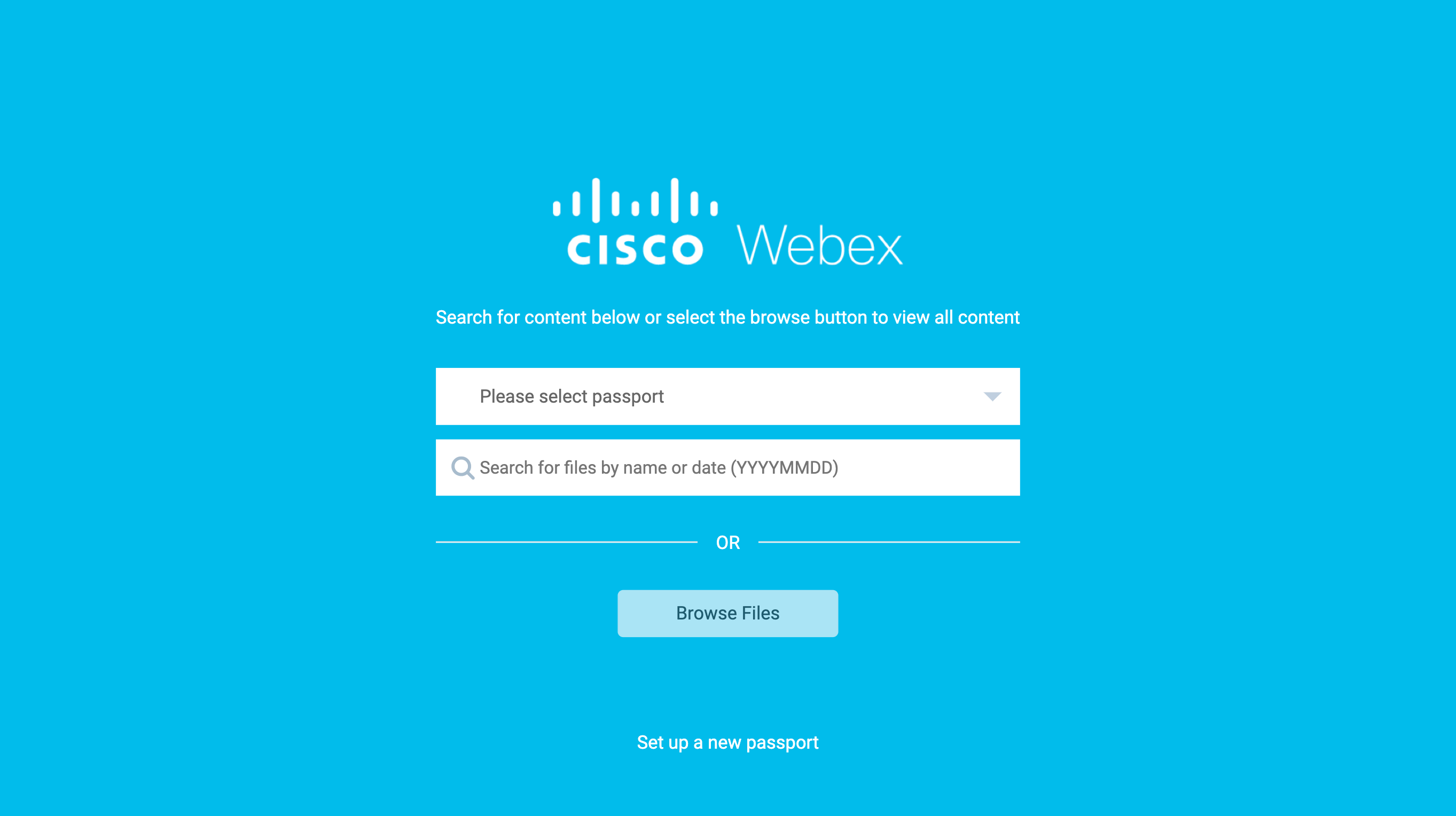 The following features are available on the Webex Recording card:
Able to stream a single Webex Recording in video format.
Allows users to browse and search Webex video recordings from their Webex Meetings passport.

When browsing or searching, Webex Meetings recordings can be sorted by the most recent or oldest recording, or by name.

Automatically select the Webex Meetings passport if only one is available, or displays a list of available Webex Meetings passports if multiple passports are available in Appspace.
Important
Due to a known CSS issues when using IE browsers, we recommend using Chrome to configure the Webex Recordings card.
We are currently working on a patch to fix these CSS issues, and would be releasing it as soon as possible.
Find the Webex Meeting card configuration article here: Cards: Display Webex Recordings
Technical Limitations & Workaround
Technical Limitations
The following devices may experience playback issues after trimming the Webex Meeting recording:

LG webOS 4
Samsung Tab 3
iPad mini
Mini X android box