These release notes provide information on new features, enhancements, resolved escalations, and bug fixes completed in every major, minor, and patch release of the Quotes Feed card, which is also an Appspace supported card.
v 1.1
Release Date: 8 November 2022
FEATURE UPDATES
Quotes Feed Card Content Now in Thumbnail
The Quotes Feed card content is now accurately displayed in the thumbnail, as well as the thumbnail display will be updated depending on the specific the user's designs and configurations.
FIXED BUGS
QT-167 – The card's content (text) is presented correctly within the quotation marks and within the card's borders. The quotations are the correct size for the card and may be viewed in their entirety in the card editor, Appspace Employee App, and on devices.
QTC-170 – In the card editor, preview mode, and device playback, the quote content is shown and changed correctly based on the number of quotes per playback loop and the length of each quote.
QTC-171 – The pencil icon is no longer displayed after a user uploads or creates a Quotes Feed theme.
v 1.0
Release Date: 14 Jan 2022
Introducing Quotes Feed Card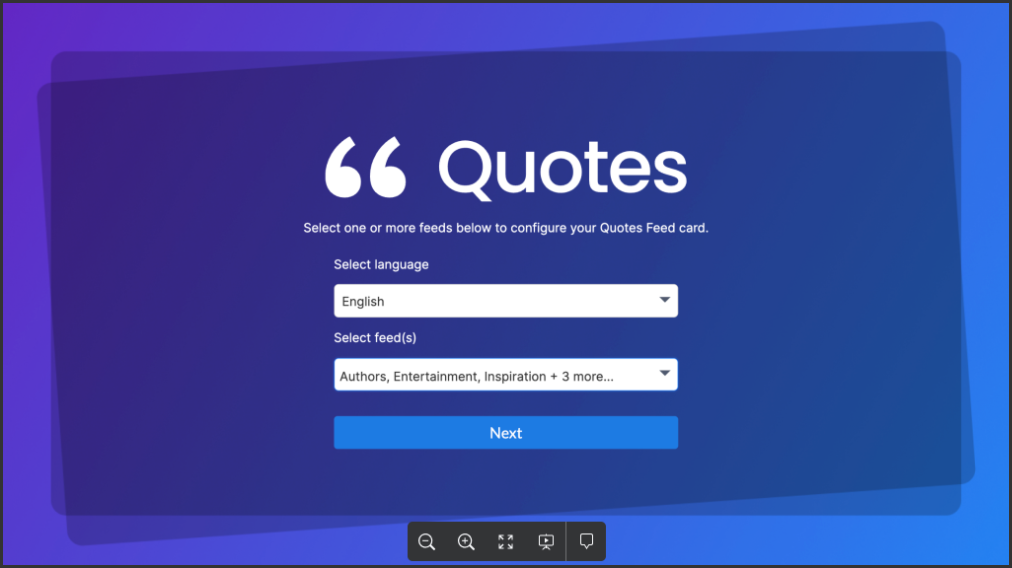 Features of this card include:
display one or multiple quote feeds. There are 6 unique feeds, authors, entertainment, inspirations, leaders, sports, and workplace that are in English and Spanish. Users can choose either one of the languages or both of the languages.

Note

By default, all 6 feeds are selected in English language, only. When multiple feeds are selected, quotes play out alternating feeds to ensure variety to the viewer. When both English and Spanish languages are selected, the same quote plays back-to-back, first in English, then next in Spanish.

define the number of quotes per playback loop. A user may choose to set this within a range of 1-6 quotes per playback loop. By default, 4 quotes will display.

set duration per quote which is a user can define how long

each

quote will display for within a playback loop.

set a transition animation between quotes.

display quotes using an auto-generated theme.

display a consistent quote layout style where users can have their content meet corporate branding standards that benefit by setting a single styling for all quotes.

ability to exclude quotes from feed based on keywords.

display a custom logo image.

Note

Only a single image file may be uploaded. Logos will automatically appear in the top right corner of content, regardless of which design layout is displayed.
For more information and configuration instructions, please refer to Cards: Display Quotes Feed article.


Was this article helpful?