In some use cases, communities have a limited lifespan. For example a project or an event. In these scenarios community owners can decide to archive their communities after they have served their purpose.
Users can archive communities by accessing the Community settings and clicking the Archived button.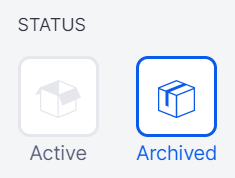 When a community is archived new content cannot be generated (read-only mode), but the content is always accessible through search or filters.

For archived communities, the expected behavior is that they continue to appear in Spotlight, in Advanced Search, and in the community directory, but not in the list of communities to which I belong that appears in the user profile.


Was this article helpful?