These release notes provide information on new features, enhancements, resolved escalations, and bug fixes completed in every major, minor, and patch release of the Visitor Kiosk card, which is also an Appspace supported card.
v 1.4
Release Date: 11 March 2022
FEATURE UPDATES
Support Custom Text and Theme Colors
Authors and administrators can now change the card's default background colors and default text in the following areas:
Welcome view
Notify host screen
Visitor check-in screen
FIXED BUGS
CT-2926 – The Retake Photo button on the Visitor Kiosk card is shown improperly when a visitor attempts to validate their registration at the kiosk.
CT-2912 – UI and grammatical errors on the Visitor Kiosk card.
Patch Updates
v 1.4.1
Release Date: 7 Apr 2022

RESOLVED ESCALATIONS
AE-7846 – Photo image is stretched when taken on smaller screen devices.
v 1.3
Release Date: 25 Feb 2022
FEATURE UPDATES
Visitor Kiosk Card General Availability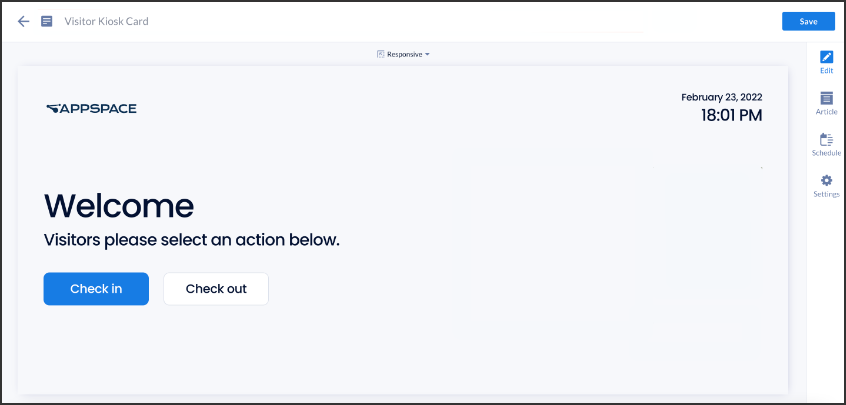 The Visitor Kiosk card is used for kiosk check-ins with the Appspace Visitor Management system that is used to invite external users (visitors) to a meeting or event held at your company.
The following features are available once the card is configured:
check-in
badge printing
check-out
For configuration instructions, please refer to the Cards: Visitor Kiosk Check-Ins article.