These release notes provide information on the new features, enhancements, resolved escalations, and bug fixes completed in each release for the Weather Card, which is also an Appspace supported card.
v 1.2
Release Date: 8 July 2020

The Weather Card card content creation workflow and card editing user interface has been updated and streamlined in conjunction with the release of the completely redesigned Library module in Appspace 8.0.
Redesigned Card Editor
The card editor has been updated with a new UI and workflow, which groups key functions and features into tabs and sections for improved user experience, such as:
Preview tab – this tab appears only after the content is saved and the editor window is opened. Preview options include Responsive, Responsive 16:9, 2K, 4K, Tablet, Phone, or Custom.
Edit tab – configure the card layout, message title and summary, logo, background and a featured media/image. Also, depending on card or template type, you may see these additional sections:

Design section – includes customized design options for each card type, which includes color palette, background, logo, and style selection options.
Configuration section – includes customized configuration options for each card type, such as chart options.

Article tab – write the content article, caption, and include a referral link if any.
Schedule tab – here you add the content directly to any existing channel, and configure its playback schedule and display properties.
Settings tab – in this tab you may add a name for this card, configure its expiry date, add tags, and add a thumbnail image.

New Category and Tags
When creating a card, you now have the option to filter results based on tags and card template categories which are based on card types such as Messaging, Data, Services, Feeds, and Legacy content – to easily find what you need from a huge list of templates available.

Release Date: 6 Dec 2019

The Weather Card has been updated with the following optimizations:
The weather information label has been updated to display the Low/High order consistently.
The background weather videos have been updated with slower motion videos, and include a crossfade transition during the video loop.
Improvements to card background customizations:

When a user selects a background color with video enabled, the background color is rendered with 30% opacity by default. However, users can manually change the opacity levels.
When a user uploads an image with video enabled, the image is displayed at 100% opacity by default, which blocks the motion background from being viewed. This can be fixed by uploading a PNG image with transparency levels managed by the user from the source file.
Animations (transitions) are automatically disabled if a playlist channel contains videos and a Weather card with background video, on BrightSign, LG, & SSSP Tizen devices, to enable smooth video to video playback.
Release Date: 6 Nov 2019

Introducing the Weather card that allows users to display a 5-day weather forecast of the current location.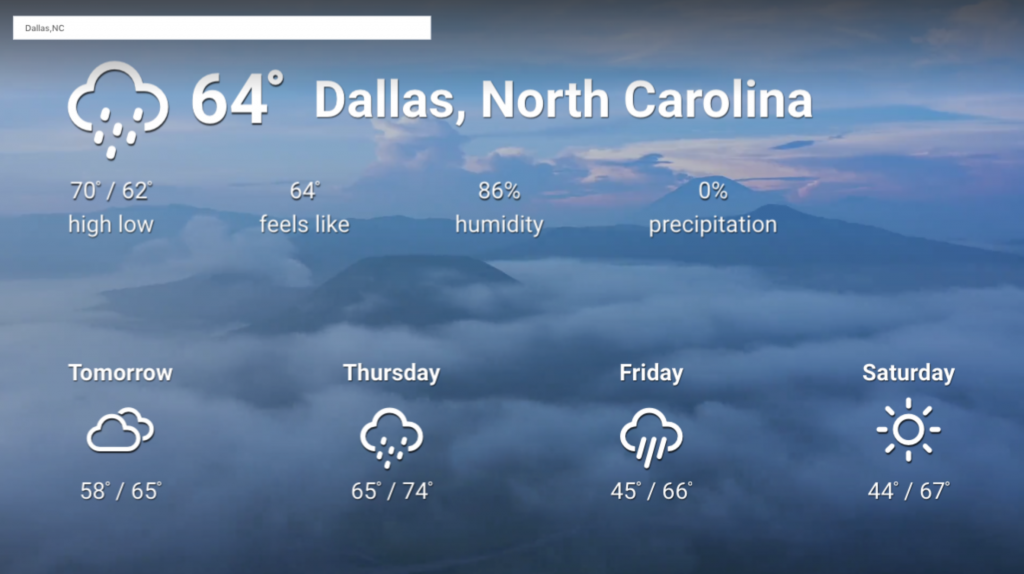 The following customizations are available on the Weather card:
Configure the temperature unit in Fahrenheit or Celsius.
Display temperature unit.
Display motion background.
Display advanced weather information.
Display the country or state of the location.
Configure text color.
Configure background color.
Find the weather card configuration article here: Create Weather card