Appspace is a cloud-based software platform for the modern workplace. Our software platform gives you the tools you need to author and publish content and experiences, targeting your communications to specific teams or your entire organization.
In a nutshell, you can use Appspace to do any of the following:
Engage your workforce by displaying the latest announcements, sales wins, employee activities, awards, new team member profiles and much more.
Book rooms or huddle spaces for meetings at designated locations with integration to either Google G-Suite or Microsoft Office 365.
Live stream industry news or corporate messaging from headquarters.
Use existing collaboration displays to drive your communication initiatives when they are not being used for meetings.
Setup location based touch-screen kiosks with directories, wayfinding and maps.
Establish your brand by customizing themes for all of the above.
Now that you have an understanding of how Appspace can be used in your organization, let's look at the key components of the platform.
Appspace Console
Access the Appspace Console on your desktop web browser to manage your content and administer users, devices and networks. Common functions such as creating cards and uploading content can be accessed through the Quick Actions menu, and all of the primary workflows can be accessed through the side navigation bar.
Cards and content
Appspace cards are essentially HTML templates that can be edited and customized with your own messaging. To start authoring a card, simply choose any of the pre-existing card templates and start populating the card with your content and message. If you already have images or videos that you simply want to share, you can simply upload those for publishing.
Publishing content with channels
Once you have created your cards and uploaded content that you want to share, you will need to aggregate them into a channel for publishing so that they can be seen on TVs, collaboration displays and other endpoints that you'd like to target.
Before you publish a channel to a greater audience, you can start by publishing it to a web browser first. This gives you the opportunity to preview your channel before you decide to publish it to others.
Appspace App and devices
You will need to install the Appspace App on a device for it to be able to view the channels that you have published. The Appspace App is available for a wide selection of devices.
To install the Appspace App on a device, you will need to go the appropriate store (e.g. Google Play, Apple Store, etc.) and download the Appspace App to the device. Once installed, running the Appspace App for the first time will ask you to register the device. Once registered, it will show published channels that are available.
Advanced administration tools
Appspace has advanced administration tools to manage users and permissions, approval workflows, advanced device tasks, network structures, alerts and much more. These are discussed in further detail under more advanced topics in the Knowledge Center.
Now that you have an understanding of the key Appspace components, let's look at the Appspace Console.
The Appspace Console is where all of the management functions take place. Let's take a look at the basics of navigating.

Appspace Menu Bar
The Appspace menu bar is part of the console header and provides access to all of the important functions in Appspace.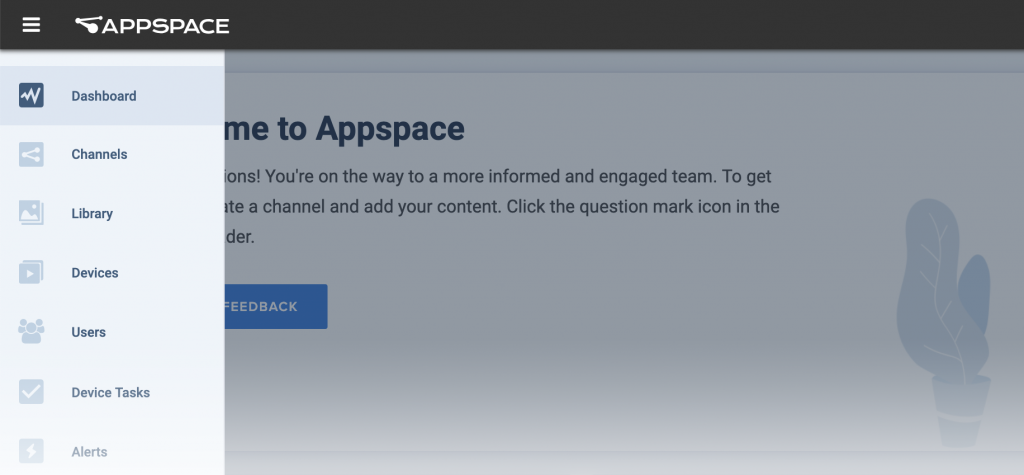 Appspace Workflows
Clicking on the main menu icon at the top left of the menu bar expands the side navigation bar that lists all of the primary and secondary workflows.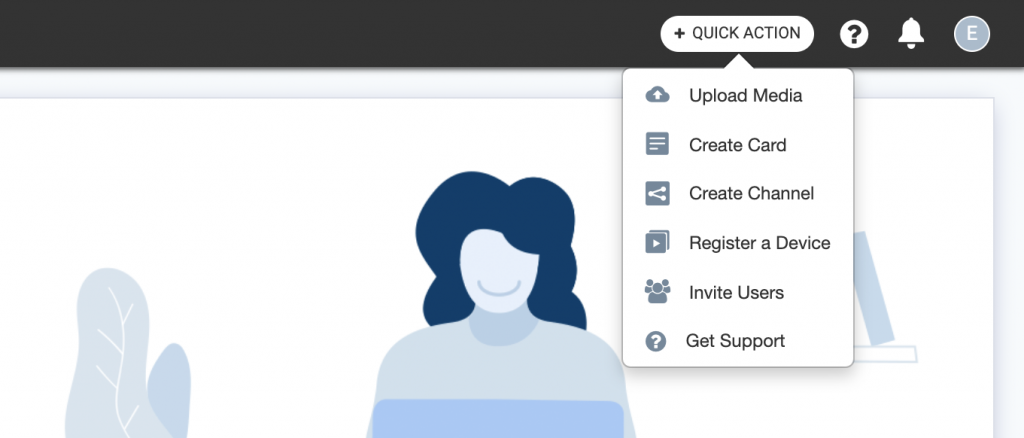 Quick Action Menu
At the top of the screen, you can find the Quick Action menu. This menu provides shortcuts to key workflow areas, allowing you to quickly create a card, a channel or even register your device with a single click.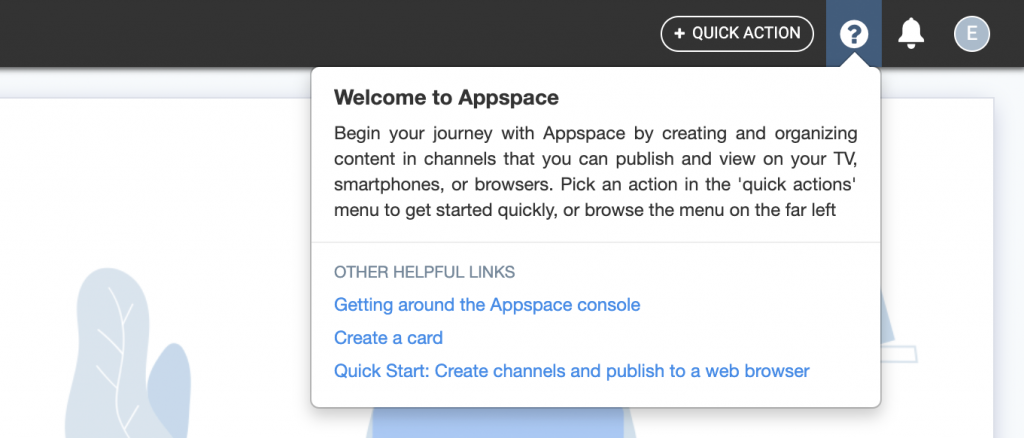 Appspace Help
Clicking on the Help button at the top right of the screen provides contextual help for the current page that you are in, with insights on what tasks can be accomplished. Some pages also include links to our Appspace Knowledge Center with comprehensive help articles.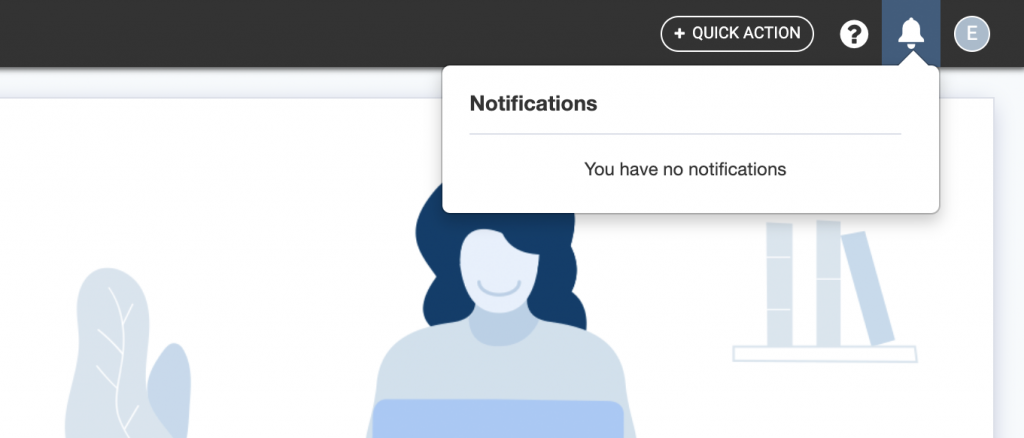 Notifications
Clicking on the Notifications button displays notification alerts on user activity, user group or user invitation activity, or content approval requests.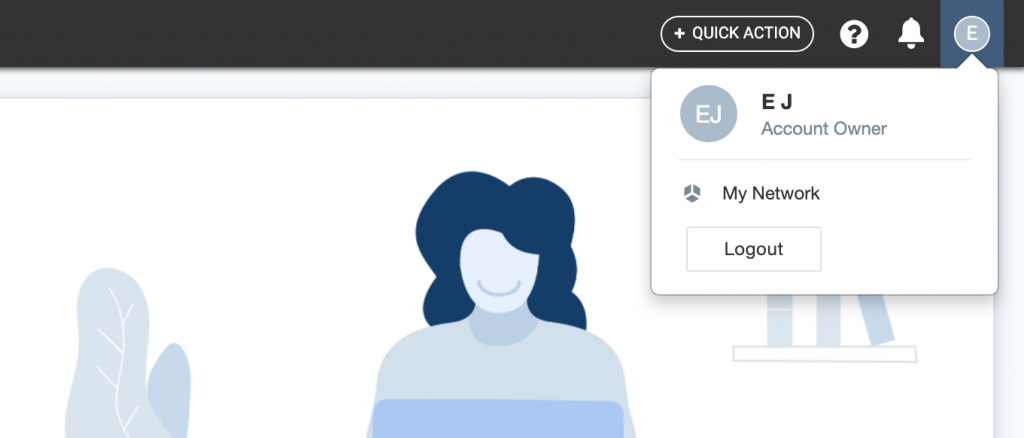 User Profile
Clicking on the User Profile button shows information about your user role. If you decide to setup more than one network later, the option to switch networks will become available.
Now that you know the basics of navigating the Appspace Console, let's take a look the primary Appspace workflows.
Appspace Primary Workflows
Upon logging into the Appspace Console, you will first land on the Dashboard. If you started using Appspace as the first and only user, you will have all the permissions to access all areas of the Appspace Console.
Appspace has a total of seven primary workflows including the Dashboard. Let's take a look!
Dashboard
The Dashboard workflow is a high-level view of all recent activities happening in your account and is presented in a single page. From this page, you can see your overall subscription usage, recent content and channel updates, along with device and network health status and updates.
Channels
The Channels workflow is where you aggregate your cards, images and videos into one or more channels for publishing. From simple playlists to more advanced interactive experiences, the Channels workflow provides all the authoring and management tools that you need to publish your channels to targeted endpoints.
Library
The Library workflow is where you organize all kinds of content in managed folders. Cards can be created and authored directly from within the Library workflow and saved to a folder. In addition to cards, you can also upload images and videos directly to folders.
Devices
The Devices workflow is where you manage all of your devices and the organization of your network. You can register devices and categorize them using device groups and tags. You can also set which devices get to see which channels, and preview what has already been assigned to any of the registered devices in your network.
Users
The Users workflow is where you can invite your coworkers to use Appspace, and manage the creation and assignment of user groups that people can belong to.
Device Tasks
The Device Tasks workflow provides advanced tools to monitor and configure devices through the deployment of device task scripts. These scripts include the ability to change the default log level of a device, update firmware, install custom fonts, set scheduled device reboots, send RS232 commands, and much more.
Alerts
The Alerts workflow gives you the ability to broadcast network-wide emergency notifications through triggered events or as scheduled events. Appspace can be also be configured to integrate with Singlewire Informacast.
Now that you know all about the primary workflows, let's take a look at some secondary workflows.
Appspace Secondary Workflows
The Appspace navigation sidebar can be expanded further to reveal secondary workflows that are used for advanced administration. There are a total of two administration workflows. Let's take a look!
Admin
The Admin workflow group provides the ability to generate proof-of-play reports for advanced channels, additional configuration options for the Appspace App, and EPG settings for live channels.
System
The System workflow group provides configuration options and settings for card templates. If you decide on running an on-premise deployment of Appspace, server configuration options will then be shown.
You now know the basics of the Appspace platform.
If you would like to discover more details about each of these workflows, you can go deeper by reading through the collection of how-to documentation.
Now that you have an understanding of Appspace workflows, you have a few options.
As a suggested first step, we recommend that you learn how to first publish content to a browser so that you can see what the Appspace channel experience looks like. Alternatively, take your new found knowledge to the cloud.