At A Glance
Article purpose: This article provides an introduction to devices in Appspace. We discuss the types of devices that can be paired with Appspace, special‑purpose devices that are needed for specialized different workplace initiatives, and how to configure them. 
Business problem: Business users and non-technical users who have a vision of displaying messages on digital signs, kiosks, room signs, or collaboration endpoints may not know the various roles that a device plays or the challenges involved in displaying content that may run 24 hours a day.
Solution: With this comprehensive guide, we hope to not only provide an insight on the different types of devices available for the various use cases and business requirements, but also to provide a guiding hand in selecting the right device suited to specific publishing needs.
Conclusion: Appspace supports a wide array of industry-standard devices and operating systems, providing our customers with varied options and scalability, for presenting content.
---
WHAT's IN THIS ARTICLE: 
Introduction
Appspace is a scalable, enterprise-grade, cloud-based SaaS platform, which enables content administrators and publishers to centrally manage the publishing and distribution of content to thousands of endpoint devices. Paired with our easy-to-use HTML5-based Appspace App, we are able to display content with high levels of broadcast and picture quality. The App is presented with a customizable theme and an intuitive interface that is clickable with a mouse, remote control, or touch screen. Compatible with multiple industry-leading operating systems and device platforms such as Chrome OS, Android, iOS, BrightSign, Cisco, Crestron, etc, we provide a wide range of possibilities to publish engaging content such as:
Engaging your workforce by displaying the latest announcements, sales wins, employee activities, awards, corporate videos, company strategies etc.
Engaging consumers by exhibiting winning videos, ads, or menus tailored to your customer base on multi-screen TVs.
Booking conference or meeting rooms and displaying room availability at designated rooms or huddle spaces with Office 365 or Google Calendar integration.
Live streaming industry news or social media feeds.
Setting up location-based touch-screen kiosks with directories and maps.
Powerful and easy-to-use, the Appspace cloud platform lets you deploy, manage, and control any type of content quickly and securely via a browser from anywhere. While content is key when creating any engaging digital signage experience, branding your content, and choosing the right device is equally important to win over a wider audience. Fortunately, Appspace has built-in branding capabilities with the HTML5-based cards that are available with numerous templates and themes. An administrator (typically a brand owner) is able to lock the theme of a template to a specific font style and color scheme, preserving the organization's brand identity across all displays, anywhere, anytime. So now, all you need to do is find the right device. The device is responsible for displaying seamless and reliable content, and delivering information to your audience in the most efficient way possible. Having high quality, responsive, and uninterrupted displays will also help reinforce your company's brand. In this document, we will provide you with an overview of the types of devices that are typically used in the industry for various content display requirements, the devices that have been tested by and are supported by Appspace, as well as all you need to know before configuring them, in the hope of making your decision a little easier when picking the right device, in the following sections.
Devices in Appspace
There are several different terminologies used throughout the industry that imply a device, such as a media player, media streamer, mini-PC, set-top box, TV box, or IPTV box. They are all essentially the same: a device that retrieves digital content such as images, videos, or live streams, from a content management platform and presents it on public digital displays such as TV screens or video walls. Some examples of their use include ads and menus at the cinema, travel or logistical information in hotel lobbies or airport terminals, or digital directories and announcements in corporate campuses. In Appspace, all these variations are commonly referred to as 'devices'. These devices are typically much smaller than desktop, laptop, or tablet computers, and come in several sizes ranging from the size of a USB stick to the size of a small desktop computer. These devices are typically powered by leading industry standard operating systems such as Chrome OS, Android, iOS, Windows, BrightSign, LG webOS, and such. As "smart TVs" have become more powerful in the past few years, many manufactures build a device into the TV. Strictly speaking, the "device" is the "smart" part inside the TV. But as a shorthand, we usually just refer to the TV unit as a device.
Choosing the Right Device
The optimal specifications for a device will depend on the type of content you wish to display, the number of different channels you wish to run, and the scale of your deployment. We make playing content on your screens simple, but with so many options for devices, it can sometimes be hard to find the right one. Here are some factors that should be considered prior to picking a device:
Function & compatibility: The Appspace App runs on a wide variety of devices, each of which have strengths. To ensure a device is compatible with Appspace and is appropriate for your application, it is important to take a holistic view. It is worth taking into account the variety (streaming, video, static), amount of content, and type of messaging you will be displaying on the screen (for signage/kiosk/room scheduling), and the display layout (single or multi-screen) as well.
 To compare the content and features that are compatible with Appspace supported devices, refer to https://docs.appspace.com/appspace/7.1/getting-started/device-comparison
Performance & Reliability:  A device's processing power will determine the dynamic nature of the content you will be able to display on your screen. Basic powered devices are ideal for operating restaurant menu boards, information boards, directories, catalogs, etc., while medium devices with greater processing power are required to play videos or display on multiple screens. Higher end devices are necessary to display HD videos, animated graphics, operate a video-wall, stream live web feeds, and play various interactive videos in multiple places. Also, ensure the device has sufficient storage to store content locally. Finally, take into consideration if the device needs to run 24/7 and the harshness of the environment (indoors, outdoors, room temperatures, dust, etc). Glitches during playback or slow performing devices can ruin the viewing experience so it is vital that a sufficient device is selected.
Device Management: It is common to have devices distributed across networks in multiple buildings, cities, and even countries. Thus it is necessary to consider the following factors for device management such as:

Can you access the device remotely?
Can you push content to devices in bulk? 
Can you turn the screens on or off?
How do you perform maintenance, system upgrade, or update the device firmware?
Integrated Screen: There are two primary scenarios for devices integrated with a screen: smart TVs and tablets. Smart TVs have a device built into them. This eliminates extra cabling and the installation of a separate device, but the built-in devices are generally less powerful than a standalone device. And a failure of either TV or device means the replacement of both units, whereas a separate TV and device allow for separate maintenance or upgrade of each. Tablets are most often used as room schedule signs and installed just outside the door of a conference room.
Budget & Cost: Gauge how many devices you may need, and what the budget is like. Devices range in technical specifications depending on cost.
Supported Devices
Appspace currently supports devices running several operating systems; while most run the standard Appspace App, some devices target specific Appspace features or use cases and are known as device integrations or solutions, as described in the tables below:
Devices with the standard Appspace App
Devices for Appspace integrations and solutions
Note
Because of the significant number of devices running some of the operating systems we support, and the range of manufacturing standards for those devices, we can only assure the compatibility of devices, the OS, and the firmware versions that we actively test. For more information on all these solutions and some insight on each device's capabilities, refer to:
https://docs.appspace.com/appspace/7.1/getting-started/device-comparison/
Installing the App and Configuring Devices
Device configuration depends on which device type or solution you wish to configure. Configuration for devices that support the standard Appspace App on operating systems such as Chrome OS, Android, iOS etc., differ from integrated devices such as Crestron TSS and Cisco Collaboration Endpoints. To install the App, there are four scenarios:
For most devices that support the Appspace App, you are required to download and install the Appspace App from an OS-bound app store.
For some devices such as the BrightSign, the App can be downloaded from the Appspace console.
For some devices such as the MediaVue, the App comes preinstalled with the device.
Most device integrations such as Cisco Collaboration Endpoints with Wallpaper, or Crestron Touch Panels for room scheduling, the Progressive Web App (PWA) version of the Appspace App is used.
Devices may require other specific configurations necessary for it to function seamlessly with Appspace. For more information for each device, refer to our Knowledge Center articles:
Registering a Device with Appspace
Once the device has been configured with the Appspace App, the device is ready for registration with the Appspace platform. A device registration window is displayed with a 6-character code when you launch the Appspace App. You must enter this code in the Register a New Device widget on the Appspace console dashboard. Registering a device establishes a link between the Appspace App running on the device and the management tools in the Appspace console. During device registration, the device is configured with the hostname of an Appspace server. The device will use that server to retrieve and submit control information such as player settings, content listings, schedules, and health status. For information on registering a device, refer to
https://docs.appspace.com/appspace/7.1/device-administration/basic/register-appspace-app/
For more advanced users, we also have other registration methods such as:
Registering a device locally – This option is ideal for users on closed on-premises network environments with no access to the Appspace Public Cloud, and can only register one device at a time.
Registering a device using a local policy file – Users on devices with USB or SD cards, may utilize this method if they would like to register their device with local policies in place, and can only register one device at a time.
Registering a device using a network policy file on the network – This method is ideal for bulk registering all devices in your local network. However, you will need a network administrator to configure the DNS server entries for your network.
Registering a device with Google CDM – This method is specifically for Chrome users utilizing Google CDM (Chrome Device Management). Once you have CDM configured, the network policy file in place will automatically register in bulk all Chrome devices in your network.
Registering a device with a serial number – This method is ideal for bulk registering specific devices in your local network. However, this method is only limited to devices that embed serial numbers to the device fingerprint.
Preregistering a device – This method pre-registers devices by first creating a device record in the console, allowing customers and third-party integrators to stream and display Appspace channels on non-standard devices via a HTML5 compatible browser.
Once a device is registered, you can assign channels, and preview the content and channels that are published. You will also have the ability to perform more advanced functions such as monitoring device status and remotely modifying the configuration of the device.
Organizing and Managing Devices
All devices that have been registered will be listed in the Appspace console under the Devices tab. The console provides an intuitive, consistent graphical interface for managing and monitoring each device with details such as 'last content update date', sync status, device communications status, and the channel that has been assigned to the device. Using the toolbar buttons, there are also options to register a device, tag or sync devices, assign a channel to a device, move devices between device groups, reset a device's status, unregister a device, and search for devices.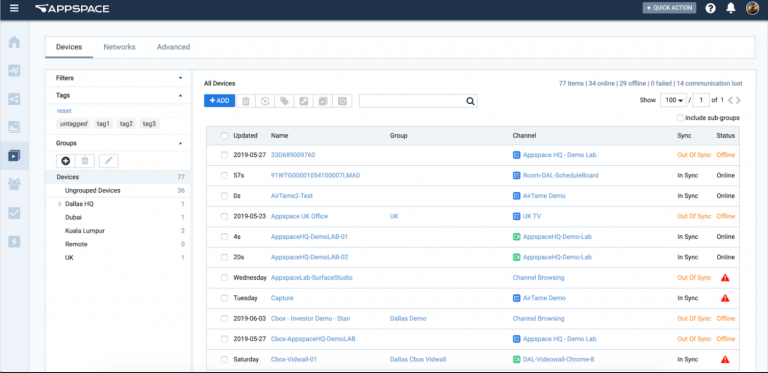 A great way to organize your devices is to place them into device groups based on location or functionality. For example, all devices that are registered to display room bookings may be grouped under one group, while devices targeted to display signage in office huddle spaces may be placed in one group. Both these groups may exist singularly, or as sub-groups in a location-based group. See image for example: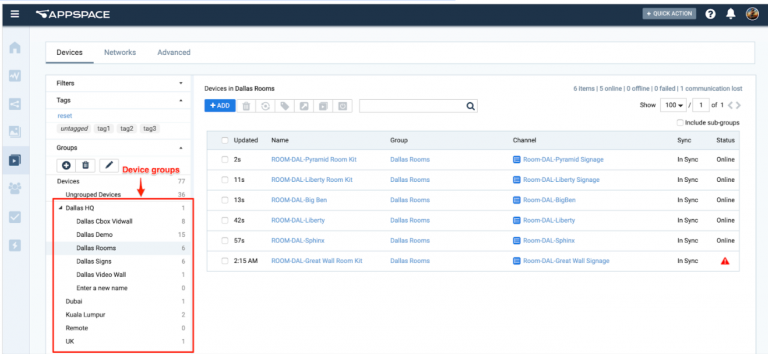 If you click on any device name link, the Device Overview and Settings pages provide more information related to this device such as device name, type, app version, the network or device group it belongs to, and much more. The cool feature on this page is that you will be able to preview all the content and channels assigned to this device. You can also directly edit each of those content and channels by clicking the appropriate name links. Further, you may configure channel selection mode, display orientation, sync modes, software updates, device alerts, and IP detection options. You can also obtain the start-up URL that is used to assign pre-registered devices to physical devices, and add any appropriate device property.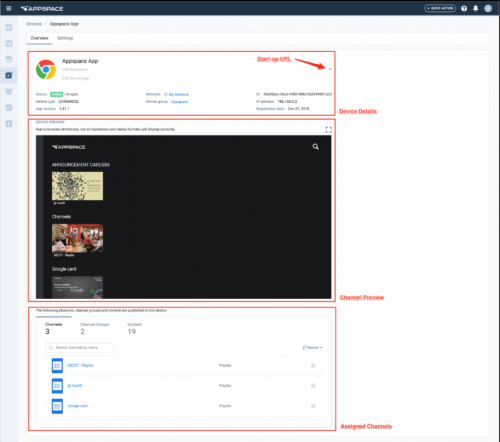 For more information on managing devices, refer to
https://docs.appspace.com/appspace/7.1/device-administration/basic/configure-user/network-devices/
Conclusion
With Appspace as your digital signage software provider, content management is taken care of. All that needs to be done is to pick the right device. With our wide coverage of supported operating systems, there is a wide range of devices that you can choose from to present astounding content. However, each customer's content presentation, goal, network bandwidth, and environment are unique. Therefore planning your digital signage requirements, objectives, and budget, before investing in a device, is critical. Pick a device for its hardware specifications, based on what is most important to you. If uncertain, contact the Appspace Sales team for advice on which hardware is best for your requirements. We will help you work with the recommended hardware vendor(s) to set up demonstrations and ensure the final solution delivers on your objectives.