These release notes provide information on the new features, enhancements, resolved escalations, and bug fixes completed in each release for Appspace Cloud 8.1.
Appspace 8.1 is a major release that includes various new features and enhancements, an improved user interface, platform optimizations, and bug fixes.
Cloud Releases
8.1-ac.2
Release Date: 23 July 2021

Release Summary
UI and branding update to the top and side navigation bars in the console. Customers with their own logo and branding may need to manually update their console theme and color to adjust to the new default white background if required.
The Reservations system now sends reminder notification emails for incomplete check-ins and checkpoints.
Release Updates
UI Update
The Appspace Dashboard has been refreshed with a new UI to align with our new branding colors and icons.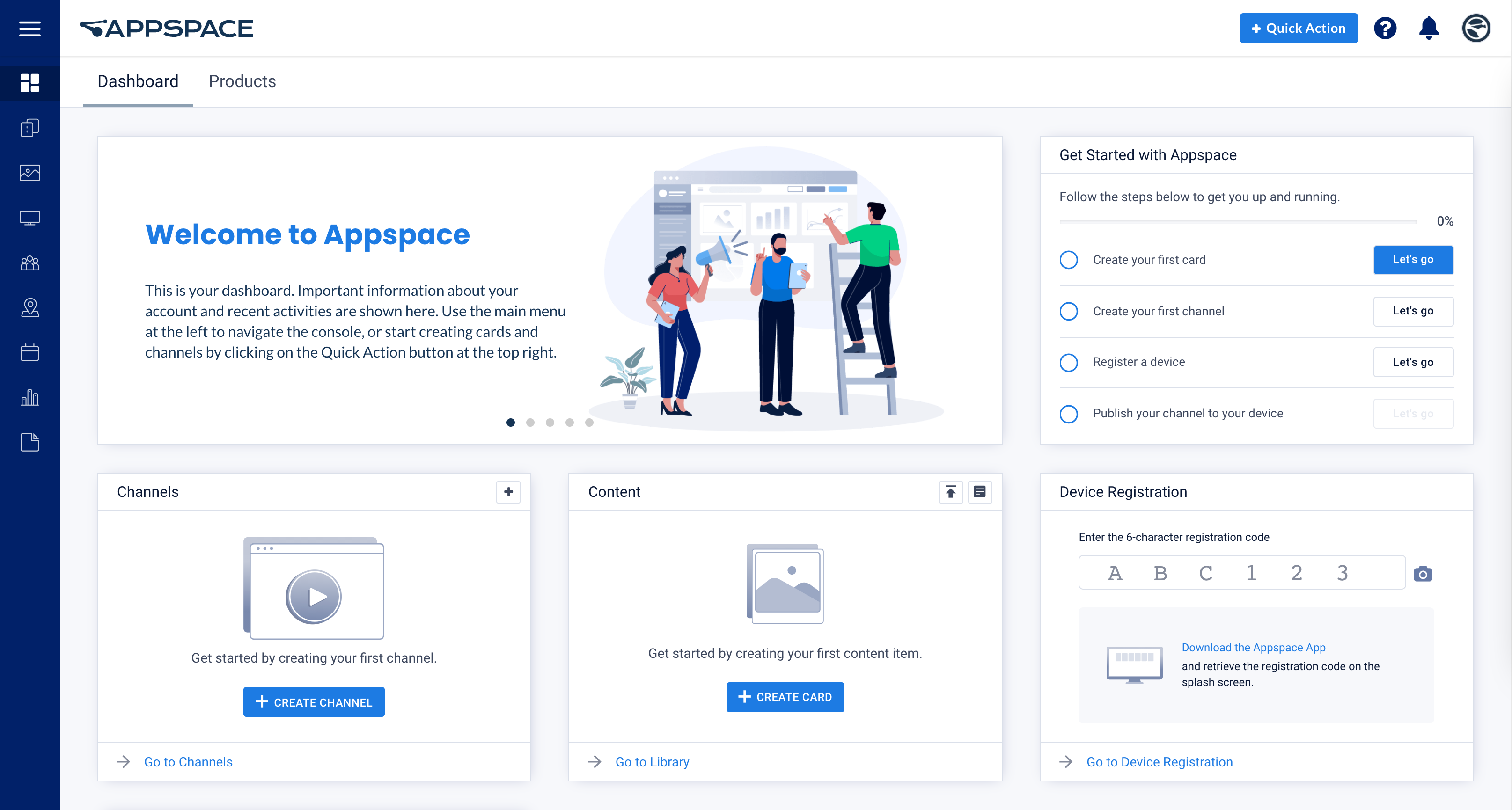 The background color for the top navigation bar in the console is changed to white. Users with custom logos are advised to update the console theme and colors.
The background color for the ☰ Appspace menu is changed to blue to match Appspace branding.
The items in the menu have new icons and have also been categorized into groups. The menu now lists features based on functions:

Communication
Workplace
Admin

Note

There is no change to permissions and user roles.

Movement of menu items:

The Cards features (for configuring themes) is now located under Library.
The Alerts and Device Task features are now located under Devices.
The Reports feature is now located under Analytics.
The Integrations feature has been moved out of Admin and is standalone.
The Settings > Settings menu for configuring console theme and logo, is renamed to Settings > Account Settings.
The First Time User checklist is now displayed as a widget on the dashboard.
For more information, check out this article: Browse and Navigate the Appspace 8.1 Console
Reservations
Reservations will now send reminder notification emails to organizers and attendees, for Check-ins and Checkpoints that are activated and valid based on the "Check-in Allow Before" and "Checkpoint Valid From" values of the resource. However, these reminder notification emails are not generated for check-ins and checkpoints that are valid immediately during booking.
Note
Below are the following behaviors of the reminder notification emails:
If there is more than one check-in or checkpoint reminder, only a single email will be sent.
If there is a change of organizer, the new organizer will receive the reminder notification email, even after the previous organizer has completed it.
Reminder email notification is only sent to the attendee or organizer that has not completed the check-in or checkpoint.
Resolved Escalation
AE-7010 – Portal Admins and Account Admins are unable to view the Locations drop-down menu on the top navigation bar.
8.1-ac.1
Release Date: 17 July 2021

Release Summary
The Space Reservation solution, which has been under the Limited Release program is moved to General Availability and is now available for all Appspace users.
Add Content label changed to Add Card in the Quick Action menu and in the Library.
Minor UI updates in Dashboard, Channels, and Reservations.
Release Updates
General Availability of Reservations System
With the Space Reservations solution becoming generally available, administrators will now see the Reservations module available in the Appspace sidebar menu. Check out this article for layout information:
Browse and Navigate Reservations Module
The Edit Resource page has been updated to display configuration settings in a two-column layout.
UI Updates
The First Time User Checklist is now displayed as a widget on the Dashboard, instead of as a pop-up for first-time users. Once all action items have been completed, the widget will disappear.
In the Quick Actions menu, "Create Content" has been renamed to "Create Card".
The Add Channels window, when adding channels to channel groups has been updated to follow the standard channel selection screen.
The Show Label drop-down menu when configuring or editing Points of Interest (POIs) on a floor plan is now displayed, as opposed to previously being hidden on POIs.
Resolved Escalation
AE-6878 – Playlist channel still displays content Pending Approval, even after pending content has been removed.
AE-6906 – Configuring SSO on private cloud results in an internal server error.
AE-6942 – Unable to access or add scheduling to the Media Zone widget.
AE-6988 – Selecting "Trigger Resync" resets the resource listing page, ignoring previous set filters.
AE-7018 – Unable to create or rename user groups.