Appspace 7.2 is a major release that is built on the Appspace 7.0 microservices architecture, which includes various new features and enhancements, an improved user interface, platform optimizations, and bug fixes.
The 7.2 on-prem build available on June 26th 2020, includes all features, bug fixes, and escalations resolved, from the 7.1-ac.20 to the 7.2-ac.11 cloud releases.
What's New
Low Bandwidth Mode
Introducing the Low Bandwidth Mode feature, which ensures customers' bandwidth is optimized when streaming content on Appspace App devices that do not have storage capabilities or a caching mechanism.
Previously, all content is streamed and displayed on non-caching devices directly from the Appspace server, thus resulting in high bandwidth usage, especially when streaming video content, or high-resolution media. To mitigate this, the Low Bandwidth Mode feature displays the thumbnail image of the video content during playback, instead of actually streaming the entire video. However, if there is user interactivity, then the video content is streamed and displayed in its entirety.
The Low Bandwidth Mode is enabled by default for all streaming devices such as:
Cisco Webex Share
Crestron Air Media
Crestron Mercury
Crestron TSS
Crestron Webex Board and Room Series
Mersive Solstice Pod

Devices registered via a browser on Windows/Mac running the Appspace PWA (Progressive Web App)
For more information, please refer to our Low Bandwidth Mode article.
Single Sign-On Improvements (SSO)
The following improvements are available for Appspace instances that have been configured with SSO:
New User Login Workflow
Added ability for administrators to configure SSO for Appspace to authenticate using "SSO only" or with "SSO or Appspace credentials".
If the SSO configuration is set to "SSO only", all newly invited users will need to sign in through their IdP (identity provider).
If the SSO configuration is set to "SSO or Appspace credentials", upon accepting the user invitation, the user will have the option to select between "Sign in with Single Sign-On" or "Sign up with Appspace".
IdP Initiated Login
Identity Provider initiated logins are now enabled by default. This does not affect service provider-initiated login.
Pass-through Authentication
Support for pass-through authentication, which allows you to provide users in your organization leveraging an external Identity Provider (IdP), with access to published channels through Appspace App on smartphones or tablets without consuming Premium User IDs. With SSO and pass-through authentication enabled, users will be able to login to our web client via https://<companyName>.cloud.appspace.com.
Just-In-Time Provisioning
Just-In-Time provisioning for SSO, which enables automatic user creation via SAML assertions as soon as they log in, without having to manually create user credentials initially in Active Directory. This feature can be enabled in the Settings tab in the Account Management Portal, if SSO is configured.
Publish Channels to Web
This new publishing feature allows users to publish channels to the web, using a public link, so that anyone would be able to browse and view channels, without the need to login to the Appspace console. This feature is in addition to the current workflow which allows users to publish to a device or a user. The two publishing options include:
Link: Share the link, or paste the link on a browser to view the channel.
Embed: Insert the iFrame code into an existing HTML page, for easy viewing in an intranet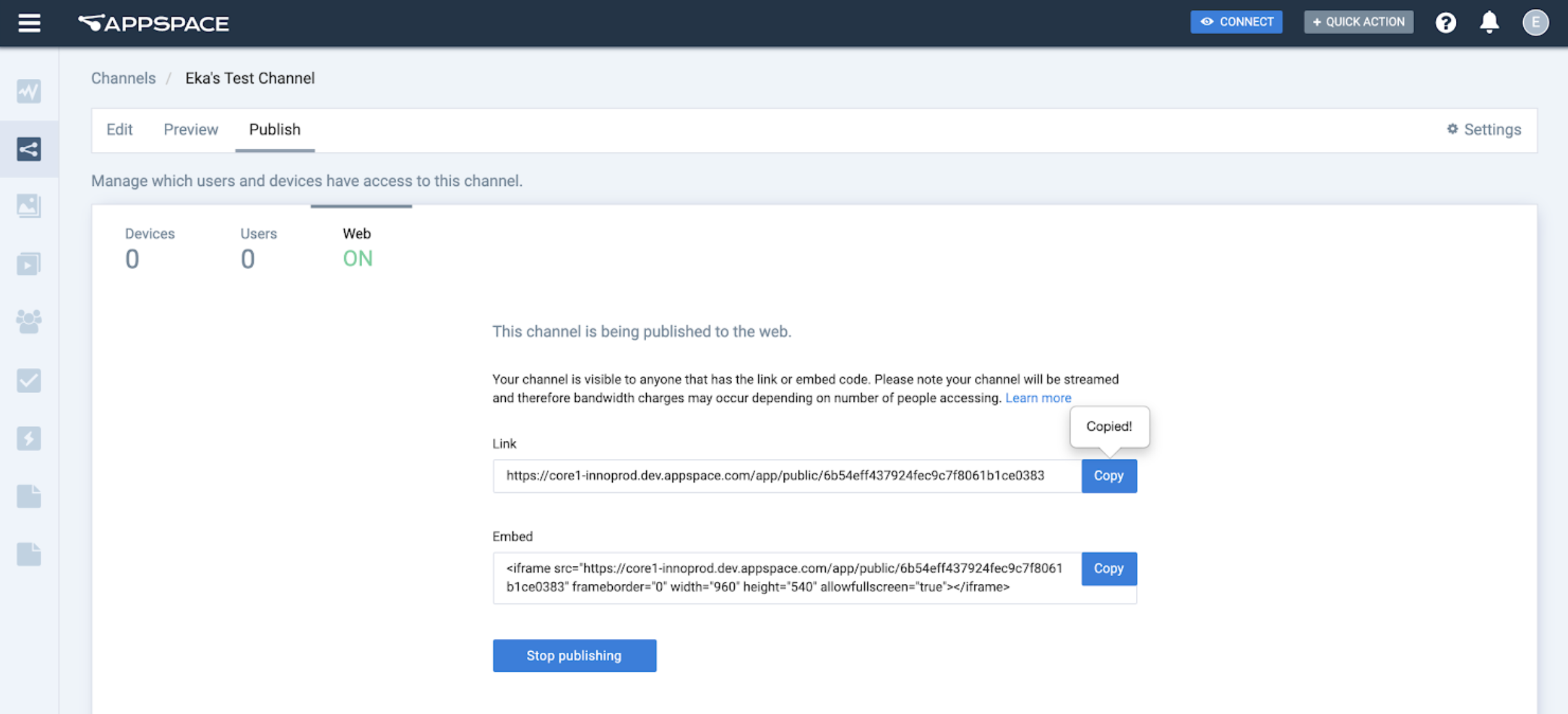 However, do note that channels viewed via the web link will be streamed, thus incurring bandwidth overhead.
With this improvement and to standardize the channel publishing workflow for all channels, the options to provide a public link on the advanced channel settings have been removed.
Newly Supported Devices/Operating Systems
Appspace App for Windows
We now have an Appspace App for Windows, which is in addition to the Appspace App for Universal Windows Platform (UWP). The Appspace App for Windows supports Windows 7, Windows 10, and Windows 10 IoT based devices, with the following versions tested and certified with Appspace.
Windows 7 Enterprise (64-bit)
Windows 7 Professional SP1 (64-bit)
Windows 10 Pro ( min ver 1903 )
Windows 10 Enterprise LTSC (Long-Term Servicing Channel)
While the Appspace App for Universal Windows Platform (UWP) is downloaded for the Windows Store, the Appspace App for Windows is downloaded via Downloads on the Appspace menu from the Appspace console and will be automatically updated each time there is a new App release. The Appspace App for Windows also supports file caching, auto-updates, and the use of the device camera.
Appspace App for Linux Ubuntu
Appspace App now supports the Linux Ubuntu platform, one of the more widely used Linux distribution for workstations, cloud, and IoT devices. With Ubuntu 18.04, installing applications has never been easier with Snaps, a one-size-fits-all installation medium that allows the installation of applications for various distributions directly from the Snap Store, without the need for a separate package manager. Currently, only the following version has been tested, and certified by Appspace:
The Appspace App for Linux Ubuntu can be downloaded, and installed from the Snap Store, and will be automatically updated each time there is a new app release.
Support for Cisco Webex Room Phone
The Cisco Webex Room Phone device is supported on the platform, as it leverages the same registration process and Cisco API as Webex Share devices.
The Cisco Webex Room Phone is a conference phone designed for collaborative meetings. From high-quality audio to a simple, familiar share and meeting experience using the power of the Webex platform, you can enjoy your collaboration experience. The Room Phone has a brilliant 6-inch full-HD touchscreen with instant access to meetings, calling, directories, and content sharing.
The Cisco Webex Room Phone is configured to display wallpapers using Appspace channels, when not in a conference.
Cards
Appspace cards are HTML-5 based templates available in the Library that you can use to create engaging, interactive content. Versatile and easy to create using the available themes in the Appspace console, cards support a wide variety of content, including images, text, video, data, and more. Cards are an easy but powerful medium to create the desired messaging ideal for any type of information needed for digital signage and workplace initiatives.
The following Cards templates and themes have been updated and made available on Appspace 7.2 On-prem:
Messaging
Data
Feeds
Services
Enterprise Messaging App Support – Limited Release
As the digital workplace dynamics evolve, there is a greater need for better communication tools that engage remote workers globally. Due to this need combined with a growing number of employees working from home, Appspace is launching an integration with enterprise messaging apps, such as Slack, Webex Teams, and Microsoft Teams.
The enterprise messaging app integration with Appspace allows users to view messages via these apps on their computers, tablets, or mobile devices, that were previously only available via digital signage in an office space. Companies are able to publish relevant content (messaging, videos, charts) via Appspace channels directly to these enterprise messaging apps, in a timely manner. 
Overall, this integration will ensure employees are always informed, engaged, and up to date wherever they are located globally. 
Business collaboration providers Appspace will support:
Webex Teams
Slack
Microsoft Teams
This feature is however available as a limited release plan for Appspace 7.2 On-Prem customers. Please contact your Appspace representative or contact us here. In order for customers to use the enterprise messaging apps features, they would first need to register their Appspspace on-prem instance with this Appspace cloud service via the Appspace console.


Was this article helpful?